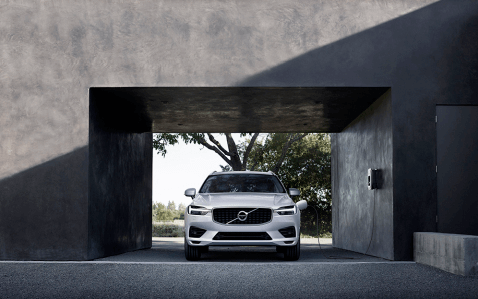 Volvo Cars has chosen electric vehicle (EV) charging company AeroVironment Inc. to develop Volvo's first custom global EV charging station.
Incorporating customer design elements and branding specifically for Volvo, this charging station can be conveniently wall mounted. As reported, it will enable drivers to charge their vehicles up to three times faster than is possible with a standard cordset.
According to Volvo, it chose AeroVironment for this development – its third EV charging initiative – based on its reputation for providing innovative and robust EV charging solutions. AeroVironment is developing a premium custom EV charger that aligns with the premium image of the Volvo XC90 and a growing line of Volvo's plug-in hybrid vehicles.
"Volvo Cars' approach to plug-in hybrid electric vehicles positions it as an innovator, and we look forward to providing Volvo Cars' customers with a wall-mounted charging station they can rely on to charge safely and proceed with certainty," says Ken Karklin, vice president and general manager of efficient energy systems for AeroVironment.
AeroVironment's charging station design will incorporate global third-party safety agency certifications for each market, including UL, CE and China CQC. Further, the new charging station will be designed with a weather-resistant IP55 enclosure and will deliver AC power safely to a vehicle's onboard charger both indoors and outdoors.
AeroVironment's TurboCord Dual plug-in EV charger is also a Volvo-preferred charging solution. AeroVironment's new charger will pair well with the TurboCord model that comes standard in the trunk of the Volvo XC90 T8 Twin Engine plug-in hybrid. Volvo drivers can now have the best of both worlds – a charging station in their garages and one in the trunk.