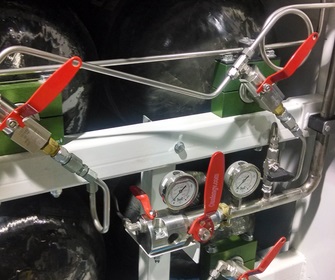 Cenergy Solutions recently completed its first adsorbent natural gas (ANG) training class, bringing together Cenergy distributors and manufacturing representatives to learn about low-pressure ANG systems in natural gas vehicles, conformable ANG tanks, refueling compressors, safety practices and other related to ANG.
Cenergy offers DOT-compliant ANG and CNG cylinders and conformable tanks, approved ANG low-pressure compressors for home and businesses, NGV conversion equipment, large ANG storage and transportation tanks, and EPA-compliant natural gas conversion systems for gasoline vehicles.
"I was impressed by the depth of NGV industry knowledge and experience in the room," says Gary Fanger, COO and CTO of Cenergy Solutions. "We had a cohesive group of business owners that are dedicated to bringing ANG to market in the U.S. and Mexico."
The two-day training event was held on Sept. 19-20 at Cenergy's training center in Ft. Smith, Ark. The next training class – which is free of charge – will be held October 19-20 at the center. To learn more, contact Terri Defalco at terrid@cenergysolutions.com.