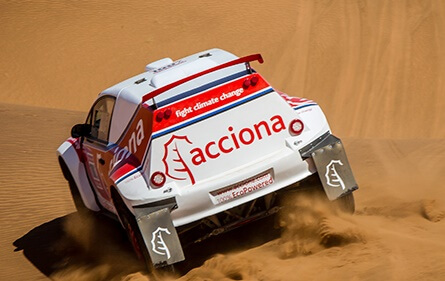 ACCIONA, a supplier of sustainable infrastructure solutions and renewable energy projects, is prepping to race its zero-emissions car, the ACCIONA 100% EcoPowered, in Mexico later this month.
The ACCIONA 100% EcoPowered vehicle is the outcome of over five years of research and development work, the company says. Built entirely in Spain, the car has a 250 kW synchronous electric motor, equivalent to 340 horsepower. It is powered by eight fast-charging lithium battery modules, plus a 100 W solar panel.
The ACCIONA 100% EcoPowered is facing the Tijuana Desert Challenge, an event in the World Desert Championship, held Sept. 22-24.
Andrea Peterhansel and Emma Clair, the female drivers who classified in 11th place in another race, the Italian Baja, will be at the wheel once again. Peterhansel has participated in over 60 rallies, including 10 times in the Dakar Rally, while Clair is Bajas TT world champion in quad. They are supported by Ariel Jatón, technical and sporting director.