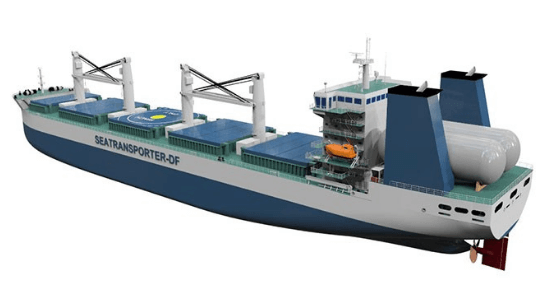 ABS, a provider of classification and technical services to the marine and offshore industries, has granted an approval in principle (AIP) for the Seatransporter-DF, a liquefied natural gas (LNG) dual-fuel design concept developed by Algoship Designers Ltd.
According to ABS, the design has the capability to accommodate multiple engine types and Type-C or membrane containment systems for LNG fuel.
"Technically innovative designs that advance the use of LNG as fuel will play an increasingly important role in the marine sector, and ABS is working alongside industry to enable this critical technological advancement," says ABS Executive Vice President for Global Marine Kirsi Tikka. "As industry considers future fuel strategies, design concepts that promote the use of LNG as fuel will play an increasingly important role in that mix."
As the marine industry continues to adjust to comply with more stringent air emission requirements, the use of LNG as a fuel will be adopted in more subsectors in the marine industry. Developed to help meet the current and upcoming international air emission standards, the Seatransporter-DF design can be used in emission control areas.
As reported, Algoship worked with CleanShips LLC of Stamford, Conn., to develop a version of the bulk carrier design that would meet specific operational requirements without compromising cargo carrying capacity. The 38,000 DWT version is equipped with a 2,400 m 3 LNG fuel containment system that could allow for approximately 100 days' endurance.
ABS says Algoship is applying the same design philosophy to Panamax-, Ultramax- and Kamsarmax-sized carriers and has determined that the dual-fuel technology is also applicable to other vessel types.
"ABS contributed to this effort as a trusted advisor, engaging early in the process to apply its rigorous engineering and safety standards and verify the feasibility of the design," says Algoship Designers President Antony Prince. "By working with ABS through its AIP process, we've been able to demonstrate that the Seatransporter was developed with a focus on safety and reliability and will be able to satisfy flag and port state requirements."