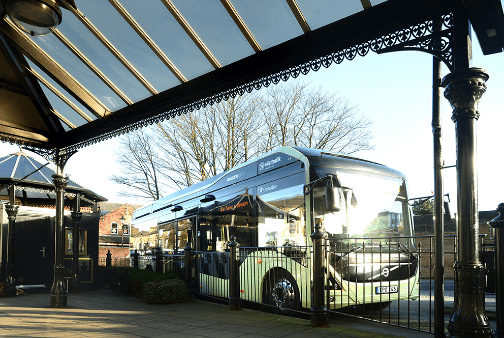 ABB, an engineering company specializing in automotive energy technologies, has won a contract to supply electric bus charging infrastructure for a fleet of Volvo electric buses that will be operated by Transdev Blazefield from 2018.
As reported, ABB will supply three HVC 300P charging stations and an electricity substation for installation at a bus station serving Harrogate, in northern England.
The contract is significant as it is the first electric bus project in the U.K. that will use OppCharge for 'opportunity charging,' where buses are charged while they wait at the terminal bus stops, which are equipped with fast-charging infrastructure at each end of the bus line.
Alex Hornby, CEO of Transdev Blazefield, says, "The fast chargers from ABB will play an important role in Transdev's long-term vision for Harrogate to become a low-emission bus town that adopts world-class electric bus technology. Ultimately, the vision is about reducing congestion, improving freedom of movement and creating a better environment across Harrogate and beyond."
According to ABB, charging will take only three to six minutes. As well as enabling zero-emission public transport, opportunity charging allows the size of batteries on board the electric buses to be reduced. This reduces the overall weight of the buses and, therefore, improves energy efficiency of the bus network.
Daan Nap, global sales director of electric bus charging at ABB, comments, "This contract builds on our recent successes in other countries and introduces the OppCharge interface in the U.K., a development that will help to further accelerate the uptake of electric buses by allowing the same charging equipment to be used by different brands of buses."
The buses will connect automatically to ABB's HVC 300P chargers, which feature an overhead charging mast that charges via the buses' on-board pantographs. According to ABB, a key advantage of this technology is that the HVC 300P units are compatible with the OppCharge interface, so it will be compatible with other brands and models of electric buses that use opportunity charging.
The company says this project is the latest of its efforts in the U.K. for electric bus charging, noting that it supplied charging infrastructure for the first full electric buses in Coventry in 2011.
Photo courtesy of Transdev Blazefield.