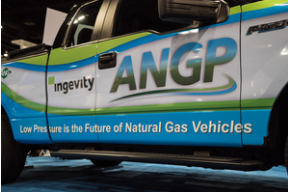 A. Schulman Inc., an international supplier of high-performance plastic compounds, masterbatches, powders and resins, and Adsorbed Natural Gas Products Inc. (ANGP) have reached an agreement whereby A. Schulman will join the coalition with ANGP to develop and produce a commercially viable conformable Type IV adsorbent-based, low-pressure natural gas (ANG) storage tank for motor vehicles.
In February 2016, ANGP and United Technologies Research Center (UTRC) announced an exclusive licensing agreement allowing ANGP to use UTRC's patent-pending technology to develop and produce storage tanks.
As reported, A. Schulman will join the coalition as the material and molding solution provider to help develop a storage tank that meets the American National Standards for Natural Gas Vehicle Container certification. With A. Schulman's Quantum carbon fiber composite technology, the supplier was chosen as a key participant in developing this advanced storage system.
Notably, ANGP received the 2016 Frost & Sullivan New Product Innovation Award for Gas Storage for Natural Gas Vehicles.  The onboard, low-pressure adsorbed natural gas storage system developed by ANGP and its technology partners was recognized as "an innovative, game-changing solution" in the light-duty vehicles fueling market.
"We are honored to receive an invitation to join the coalition and look forward to developing the world's first commercially viable natural gas storage tank to meet the needs of our end customers for innovative, lightweight and environmentally friendly products," comments Frank Roederer, senior vice president and general manager for U.S. and Canada and engineered composites at A. Schulman.
"ANGP has done a tremendous job in demonstrating the value proposition for this technology. By pulling together all the coalition members, ANGP has leveraged each company's unique skill set to help develop the most robust and cost-effective solution," says Doug Gries, global marketing director for A. Schulman. "Our carbon fiber material technology is uniquely suited to meet the challenges in the automotive market."