According to the N.C. Clean Energy Technology Center's (NCCETC) latest report on national electric vehicle (EV) policy, 32 states and the District of Columbia took actions related to EVs and charging infrastructure during the third quarter of this year.
NCCETC, part of the College of Engineering at North Carolina State University, offers a quarterly series, "The 50 States of Electric Vehicles," providing insights on state regulatory and legislative discussions and actions on EVs and charging infrastructure.
The report finds that the greatest number of actions in Q3 related to Level 2 charging station deployment, followed by EV rate tariffs, DC fast-charging station deployment and rebate programs.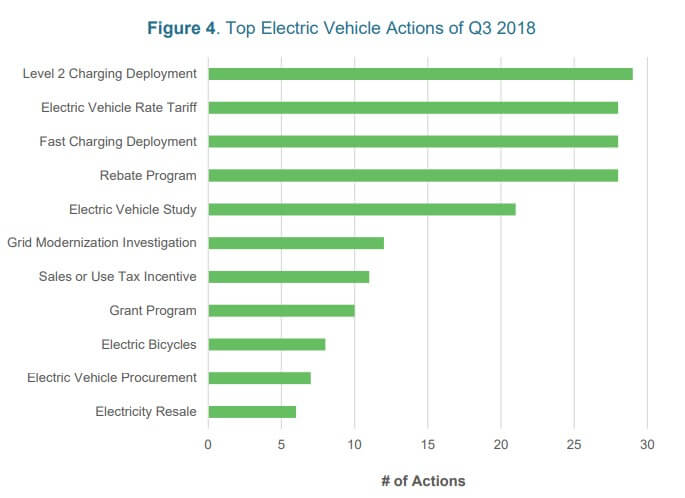 The report specifically notes three trends in EV activity apparent or emerging in Q3:
(1) Utilities proposing demand charge alternatives for fast charging stations;
(2) Electric bus investment ramping up, along with vehicle-to-grid testing; and
(3) Utilities collecting data on EV charging patterns.
A total of 211 electric vehicle actions were taken during Q3 2018, the report says. New Jersey, California, New York and Massachusetts took the greatest number of actions during the quarter; in fact, they accounted for over half of the quarter's activity.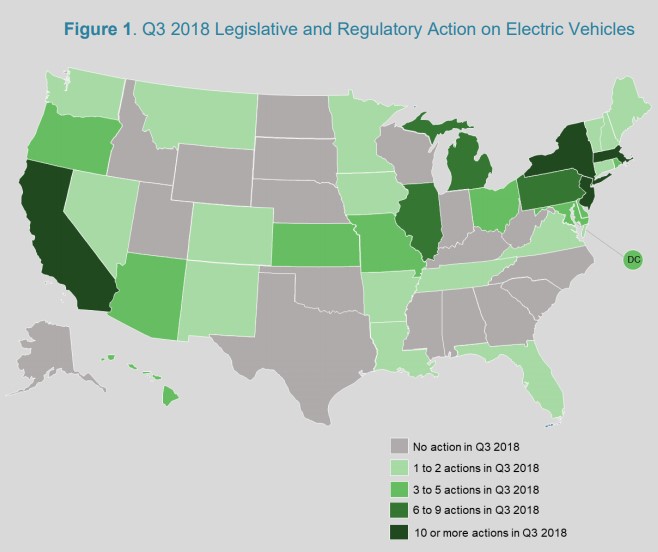 "States continue to anticipate more electric vehicles on the road as a growing number of medium- and heavy-duty models are announced," notes Allison Carr, clean transportation specialist at NCCETC. "We're seeing states and utilities work to advance electrification of medium- and heavy-duty vehicles by offering incentives, building out charging infrastructure, and testing vehicle-to-grid capabilities."
The report offers the top EV actions taken during the quarter:
The Missouri Court of Appeals reversed a Public Service Commission decision on charging station regulation;
Pepco filed its Transportation Electrification Program proposal with the DC Public Service Commission;
Massachusetts and Rhode Island regulators approved EV programs for National Grid;
PSE&G New Jersey filed a $261 million EV program proposal; and
California utilities filed proposals to deploy charging infrastructure at schools and state parks and beaches.
"Utilities are playing a significant role in accelerating the build-out of charging infrastructure," observes Autumn Proudlove, senior manager of policy research at NCCETC. "In addition to directly deploying infrastructure, utilities are proposing demand charge alternatives to encourage development of fast-charging stations and launching rebate programs to reduce upfront costs."
More on the report can be found here.