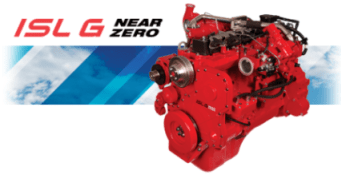 Cummins Westport Inc. has announced that production of the ISL G Near Zero (NZ) NOx natural gas engine has officially commenced and orders are now being processed.
According to the company, the ISL G NZ is the first mid-range engine in North America to receive emission certification from both the U.S. Environmental Protection Agency (EPA) and the Air Resources Board (ARB) in California to meet the optional 0.02 g/bhp-hr NZ NOx Emissions standards eight years in advance of the 2023 California NZ NOx schedule, contributing to California Clean Air initiatives.
As previously reported, exhaust emissions of the ISL G NZ are 90% lower than the current EPA and ARB NOx limit and also meet the 2017 EPA greenhouse-gas (GHG) emission requirements.
"The start of production of the ISL G Near Zero natural gas engine offers a game-changing solution for the reduction of urban tailpipe and engine-related emissions," says Rob Neitzke, president of Cummins Westport. "Combined with the reliability and operating improvements on the base ISL G engine, the ISL G Near Zero is now at the forefront of cost-effective and dependable emission reduction strategies in transit, medium-duty truck and refuse applications."
Cummins states that the ISL G NZ can operate on compressed, liquid or renewable natural gas, offering a significant GHG emissions benefit compared with fossil fuels. In addition to the dramatic reduction in NOx, the ISL G NZ will feature Closed Crankcase Ventilation, reducing engine-related GHG methane emissions by 70%.
The ISL G NZ also offers customers the benefit of improved reliability and durability, as well as range and performance with the lowest emissions, utilizing maintenance-free, Three-Way Catalyst aftertreatment. Cummins Westport natural gas engines do not require active aftertreatment, such as a Diesel Particulate Filter or Selective Catalytic Reduction.
According to the company, the ISL G NZ is manufactured at the Cummins Engine Plant in Rocky Mount, N.C., ultimately offering low emission performance and efficiency, with engine ratings from 250-320 horsepower and 660-1,000 lb-ft torque available.
The ISL G NZ engine is available as a first fit engine with transit, shuttle and school bus, refuse, and truck original equipment manufacturers, or as an engine replacement (repower) for existing ISL G vehicles.